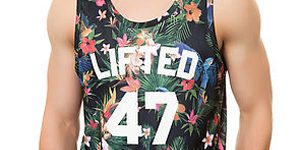 Let's not play it safe.
There is a serious trend going on right now…it is bold and it's kind of amazing. I love when men step outside of the safety zone and wear bold prints. Whether it be bold patterns or even a leopard print, this new floral trend is bound to turn heads.
I love the juxtaposition of the athletic varsity shirt and the colorful floral print…mixing something we think of as "masculine" with something softer, creating the perfect design for the man who likes to take chances and doesn't want to 'fit in.'
If you don't feel like going all the way and don't relish in making fashion statements, I've suggested some other safer prints and patterned options. ONLY if you must play it safe…but what's the fun in that?!
For a discount at Karmaloop enter my REP CODE 9806 at checkout!
Asphalt Varsity Tee – Karmaloop $35
Floral Basketball Jersey – Karmaloop $59
Printed Tank – Karmaloop $35
Varsity Floral Tee – Karmaloop $35
Splattered Tee – Karmaloop $44
Printed Buttondown – Karmaloop $56
Stingray Tee – Karmaloop $26
Triangle Sleeves – Karmaloop $38