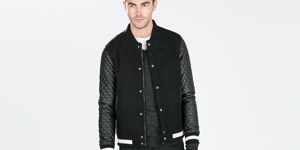 I hate to break it to you, but if you aren't putting sweaters, boots and jackets into your shopping cart now, you aren't doing it right. For instance, this cashmere jumper should be at the top of your list this winter, for both warmth and style! It's a great way to break out of the summer fashion.
Labor day has come and gone, and that only means one thing, Summer is officially over. I know, it is hard to believe this statement is true, as the 90 degree weather doesn't help prove it.
I'm really excited for new and recurring trends for this fall. Lots of plaid, lots of layering, floral patterns (and mixing and matching of patterns/prints), slim slacks, quilted everything, and if you put your money on camouflage last year, don't worry, it's back!
I have chosen some of my favorite jackets from some of my favorite stores for you guys. Here is a kick start to your fall shopping!
Floral Jacket – Zara $99.90
Quilted Faux Leather Sleeve Jacket – Zara $99
Faux Leather Camel Jacket – Zara $149
Green Parka – Topman $190
Oversized Green Bomber – Topman $95
Faux Leather Moto Jacket – Forever21 $39.80
Denim Jacket – Forever21 $39.80
Gray Padded Vest – H&M $34.95
Quilted Biker Jacket – H&M $69.95
Dark Denim Jacket – H&M $49.95