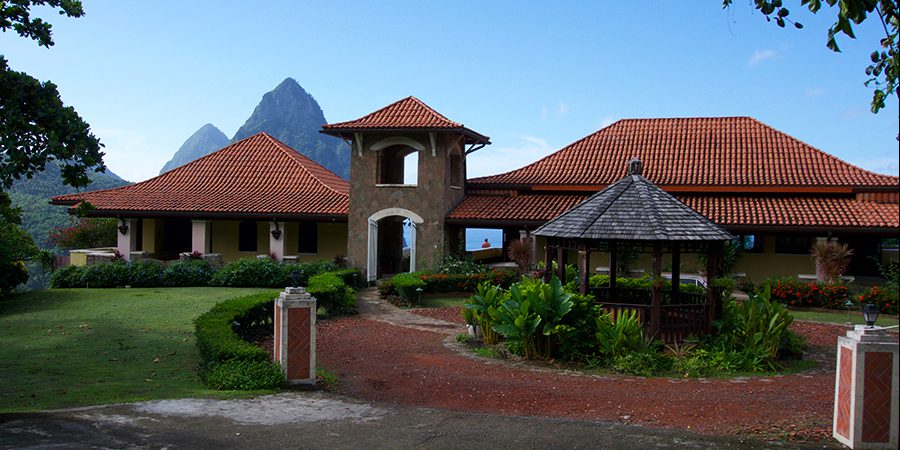 Traveling for my birthday is something I pray I can do forever. It's a tradition I started as a result of my love for travel combined with hating to throw parties for my birthday (which weirdly enough, I did both this year). And it seems that now, I have a knack for finding little affordable hidden gems.
I came upon this little treasure called La Haut Resort, tucked away in the middle of the mountains, just north of The Pitons in Soufrière, Saint Lucia. Once a cocoa and coconut estate, the 52 acres is home to a historical guest house nearly 100 years old along with 17 rooms, all of which have breathtaking views of both the Gros Piton (2,530 feet hight) and the Petit Piton (2,438 feet high) volcanic plugs.
I was afforded the opportunity to try out both the Country Cottage (a two level self contained unit) steps from the main building and a Premium Vista Room located a short 200 yard walk down. The cottage was nice to feel like we had our own place, two levels was too much space for two people (if that is even a thing). We spent the majority of the time dodging the rain on our deck and not in the actual cottage (rainy season had just wrapped the weekend before our arrival). The Vista room didn't feel quite the same. Be prepared to hear your neighbors TVs on, snoring, and some other stuff you do in bedrooms. The view though, made me forget everything I heard the night before. Each, amazing in their own ways, I enjoyed staying closer to the edge of the mountain in the Premium Vista room best.
Breakfast daily was included in the package and offered a short order omelet chef and a wide variety of pastries, local fruits and drinks. After being diagnosed with Celiac disease in July of 2015, I thought it'd be a huge burden to find things I can eat in other countries. Not allowing that to deter me from travel, the resort asked if I had any food allergies and was notified prior to my arrival. I was astonished when they sent out the head chef each time I showed up to eat, to take my order. They attended to my life changes in ways I couldn't have imagined.
Our room was stocked with fresh local fruit, daily. We boiled the tap water and filled up our water bottles we brought from home and chilled them over night to save a few bucks. Views while taking a dip in the infinity pool of the town below, Soufrière, are astonishing. Pink, orange, green and blue roofs fill the small town of 7,935 residents, with the Pitons setting in the background. Shuttle rides offered, free of charge, to the local beaches and town (if you don't enjoy driving up steep roads, I suggest you close your eyes like I did!). Did I mention, if you don't like twisty and windy roads, this island is not for you! Its mountainous and steep, our nerve racking taxi ride from the airport made that clear, very quickly.
I don't look for luxury when I travel (unless its that type of trip – in which case, I will likely look here for some inspiration for my next Caribbean island getaway, tucked away in some gorgeous villa somewhere… my own private slice of luxury! What could be better?). Its nice to have some luxury but not a priority and for this trip I wanted to explore and experience the culture. We ate local food every day for lunch (fresh seafood, green figs, plantain, rice and my FAVORITES, breadfruit, yams and dasheen) and took taxi's to a couple luxury hotels in the area for special birthday dinners. There is heavy French and Indian culinary influence with curry being quite popular. Saint Lucia is unique and unlike other Caribbean Islands, contrary to what people might think. If you want to visit the rest of the Caribbean and see for yourself, then do so in equal luxury by hiring a charter plane, similar to the ones available Jettly have on their site. You can check out more pictures the learn about the fun things you should do while visiting here.
I found this deal for $420 for two people for four nights, breakfast buffet included daily.
La Haut information:
La Haut Resort, St Lucia, The Caribbean
Reservations: 1-866-773-4321
Email: lahaut@candw.lc
All Photos Taken by Merideth Morgan