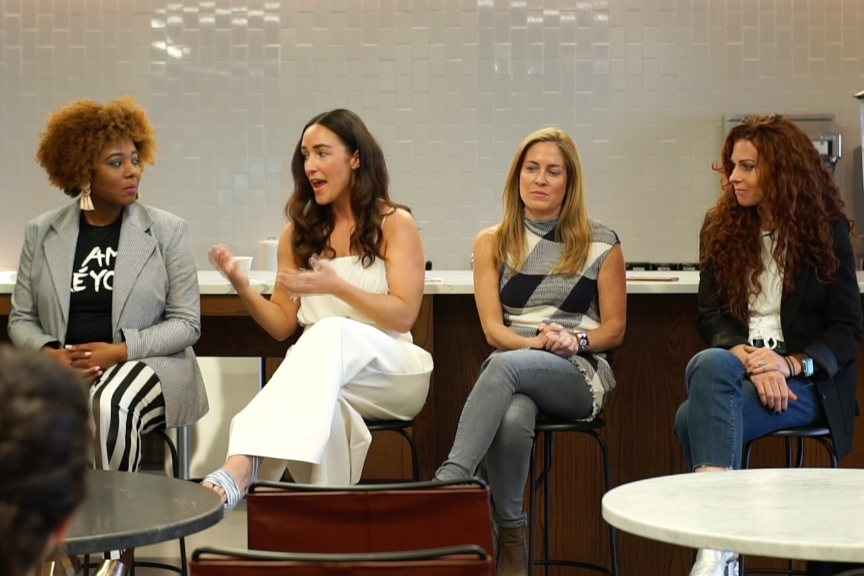 Join us at the Industrious Boston Seaport co-working space and learn from a panel of women entrepreneurs in the fashion industry. The fashion industry is rapidly growing in the Boston area and you can be a part of it. Come hear about successful entrepreneurs' journey's to success as well as how they overcame common obstacles along the way!
This panel will provide those in the fashion space and other aspiring entrepreneurs a sense of hope, camaraderie, and motivation to succeed in today's competitive market. Panelists will offer advice and guidance as well as answer questions following the panel. This event is co-sponsored by Ketel One Botanicals, Q Mixers, and Purity Organic. Complimentary cocktails will be provided.
Meet the Panelists
Nathalie Fanfan is a talented freelance Fashion Stylist and Personal Shopper based in Boston and has been recognized as CBS Boston Best Personal Stylist & Shopper. She is known for her easygoing approach to styling and natural ability to quickly create cohesive looks. Nathalie's editorial work ranges from Fortune 500 advertising campaigns to regional print publications. Nathalie's experience in fashion has opened up new opportunities in an event production role and she is always on the lookout for new projects to embrace.
www.nathaliefanfan.com
Merideth Morgan is attacking the creative world from all sides as a fashion stylist, fashion blogger and model (and former journalist for Paste Magazine). She grew up in a small town in Massachusetts and now resides in New York City. She jump started her styling career eight years ago after completing her graduate program at Parsons School of Design. Her styling portfolio consists of advertising campaigns, music videos and celebrities. Some of the brands she's worked with include Nike, Adidas and has had her work in GQ. Some of the celebrities she's worked with have been J.Cole, Mack Wilds, Rotimi, Chelsea Cutler and Damian Lillard to name a few. She also loves working with her private clients!
www.meridethmorgan.com
Tara West
is an independent personal stylist and one of Boston's pre-eminent fashion bloggers. Voted multiple times Boston's Best A-List Fashion Blog, and listed among the top 100 fashion blogs in the country, Tara West's blog received hundreds of visitors daily and reaches tens of thousands monthly through her YouTube channel and social media accounts.
www.tarawestfashion.com
Amy Finegold is a retail veteran, working in the fashion industry for over 25 years and owning her award winning women's clothing store dresscode for the past 13 years. She has recently transitioned to Personal Shopping and Styling, closing her boutique to better focus on clients and family. She currently works with the styling team Unfoldid and is excited to be embracing new challenges.
Video by Merideth Morgan
Watch the first 30 minutes on YouTube