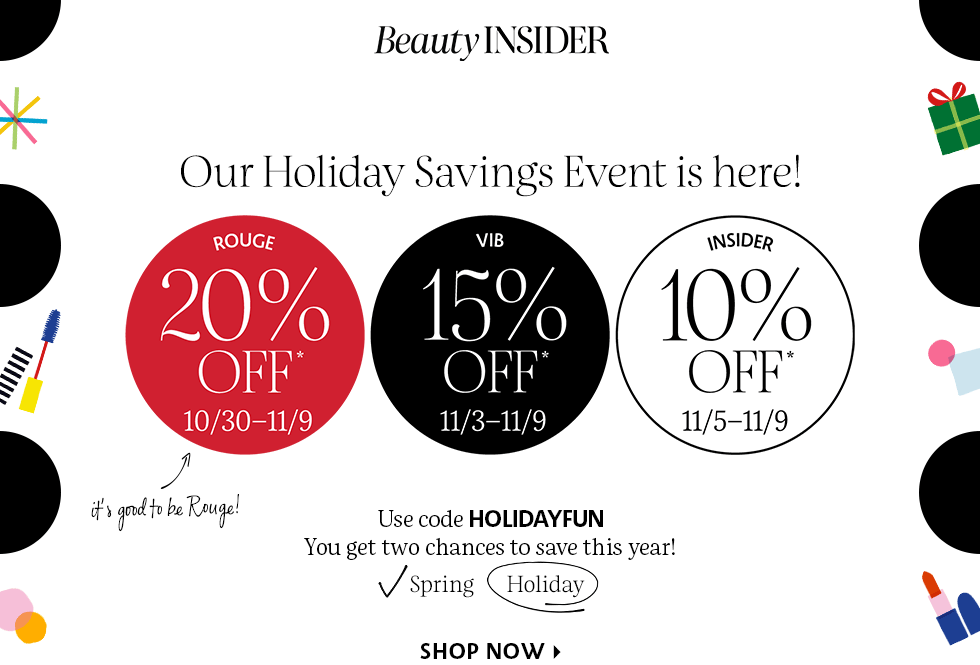 Beauty products rarely ever go on sale, but when Sephora has their Insider Sale, I have to stock up! And if you don't have Sephora Beauty Insider account, you better run [don't walk] and go sign up for free to take advantage of their Holiday sale right now! You'll also get early access and another solid discount during their only other Beauty Insider sale that typically happens in late April/early may!
Here's the Insider breakdown:
Discounts are below and then will list my faves/must haves/wish list. If you know about the Sephora Rewards Program, skip to the good stuff!
Sephora Rouge member [you spend more than $1000/year]: 20% OFF from October 30 to November 9
Sephora VIB member [you spend more than $350/year]: 15% OFF from November 3 to November 9
Sephora Insider member [anyone who has a Beauty Insider]: 10% OFF from November 5 to November 9
Use the code HOLIDAYFUN to apply your discount and remember, you can use this code as many times as you'd like throughout your dates. If you don't have an account, sign up here today to get at least 10% OFF until November 9th.
Perks of signing up:
You get a free birthday gift every year [get it ANYTIME of year]
Every $1 you spend you, earn 1 Insider point. If you're a VIB you earn 1.5 points for every $1. If you're a Rouge, you earn 1.5 points for every $1 spent, you get free shipping and receive early access to new products. The best part about it is, you receive the most generous discounts and sales in store and online, and invitations to exclusive Sephora events.
You can redeem your points at check out for free sample/travel size products. Redeeming them online is MUCH better, as they always have many more options
You can donate your points to Charity Reward—National Coalition on Black Civic Participation/Black Women's Roundtable!!! Honestly, this is amazing an amazing way to help make change if you don't have lots of cash.
For more details, check out their full list of details here
The Good Stuff
Okay-let's get on to the good stuff! Below, I have shared some of my faves I use on the daily and products I've heard a lot about and want to try! I have a pretty basic everyday makeup routine that takes me about 10 minutes, but my eyes are always peeled for new things and for good deals! This is the perfect time to shop gift sets for the holiday, or heck, treat yo self! I know I am. We could all use a little pick me up right about now…wooooosaahhhh. Do you feel me?! Happy shopping!
SPF

What I use: Kiehl's Since 1851 Super Fluid Daily UV Defense Sunscreen Broad Spectrum SPF 50+ Lightweight and non sticky. I can put makeup over with no problem.
What I want to try: Supergoop! Glowscreen Sunscreen SPF 40 Heard nothing but good things, another must try!
Moisturizer

What I use: Kiehl's Since 1851 Ultra Facial Moisturizer SPF 30 I mix this with my foundation for a little bit of a tinted SPF moisturizer.
What I want to try: Peter Thomas Roth Water Drench® Hyaluronic Hydrating Moisturizer SPF 45
Foundation

What I use: Makeup Forever Ultra HD Invisible Coverage I use the invisible coverage because I don't like the look of having makeup on. This is such a good formula!
What I want to try: La Mer The Soft Fluid Long Wear Foundation SPF 20 The only reason I want to try this is because I've never worn a luxury foundation and because it has my name in it! Wondering if this would be any better than what I have now…I mean, it better be with a $125 price tag!
Bronzer

What I use: Too Faced Chocolate Gold Soleil Bronzer this smells like literal chocolate and I want to put it all over my body and Marc Jacobs Beauty O!Mega Bronzer Coconut Perfect Tan this is masssssive and the packaging gives me life! [I also use Chanel Soleil tan de Chanel but they don't sell it at Sephora]
What I want to try: Charlotte Tilbury Filmstar Bronze & Glow Contour Duo Heard great things about this duo, plus is comes with a highlighter! Great duo to try. Check out the mini version here! Also, I'd love to treat myself to this amazinggg shade and highlight combo TOM FORD Shade and Illuminate.
Blush

What I use: bareMinerals Blush I don't remember how or why but when I first started getting into makeup (the little that I have) I ended up with like 4 bareMineral blushes. They work great and haven't really thought about trying anything else…since I already have 4!
What I want to try: NARS Blush in Orgasm With 17,000 reviews, it's safe to say this is Sephora's best selling blush. Time to add another beaut to my collection.
Mascara

What I use: Smashbox Super Fan Lash Lengthening Mascara or Marc Jacobs Velvet Noir Major Volume Mascara and Monsier Big Lancôme I knowwww I have a few mascara favorites-I can't help it! Oh, and Dior DiorShow!
What I want to try: Sephora Favorites Lashstash Set Well, maybe I'll just get these 10 best selling mascaras and put them through the test! The total value of this set is $172 but get it for $48!!
Brows

What I use: Benefit Cosmetics Gimme Brow+ Tinted Volumizing Eyebrow Gel I don't even have to fill in my brows after discovering this miracle of a product! Anastasia Beverly Hills Clear Brow Gel Sometimes the above product doesn't hold my brows where I want them (especially with this wild mane of mine that falls over my face and moves my brow hairs!). This is like hairspray to keep these brows in place (but not in a weird way!).
What I want to try: Benefit Cosmetics Brow Microfilling Eyebrow Pen As you know, I've been really growing out my brows (thank you Neubrow growth serum! (not on Sephora)) but this would be great for sparse places as they continue to get as bushy as possible!
Lips

What I use: Make Up For Ever Artist Color Pencil: Eye, Lip & Brow Pencil in Endless Cacao I have been utterly obsessed with lip liner-often times, it's the only thing I use mixed with my lip balm. This color is the best! Even great to wear once you add lipstick. It's great for adding some dimension and definition.
What I want to try: Charlotte Tilbury Matte Revolution Lipstick in color Pillow Talk. I've heard soooo many people talk about this! Must try NOW!
Cleanser

What I use: Laneige Moisturizing Cream Cleanser I loved their older version better, but this is what I got when I reordered. Loving it so far…a little goes a long way! Also, reviews aren't great, so you can ignore. This cleanser works really well when you use the correct amount.
What I want to try: FarmacyGreen Clean Makeup Removing Cleansing Balm I have seen this in action from the Queen Katie Jane Hughes herself [and multiple others] and it literally melts your makeup off! My only question is, if you don't wear makeup one day, is this an appropriate cleanser for bare skin? Like, is this a solid option for washing your face before bed? It does say 'makeup remover AND cleanser,' but I'm still kind of confused. I shall use and report back!
Toner

What I use: I currently don't use one! But would like to try the Indie Lee CoQ-10 Toner. I don't know much about it but have seen a friend use it and trust her opinion!
Hair

What I use: DevaCurl Ultra Defining Gel Strong Hold No-Crunch Styler I used to LOVE DevaCurl when I first learned how to better manage my curls. Works wonders.
What I want to try: amika Curl Corps Curl Enhancing Hair Gel Adding this SO fast to my basket…and not thinking twice! My curls have been hurting as of late and hoping this will help shape and make my curls pop! Been dying to try this.
amika Curl Corps Curl Defining Cream Do I do gel or cream? Hmmm…maybe I'll try both!
Body Lotion

Let me start off by saying, I choose body lotions based on smell and smell alone. I need to smell like coconut constantly.
What I use: Sol de Janeiro Coco Cabana Body Cream – With New Coconut Scent and Plush Moisture Mini This smells like heaven in a bottle if you're into coconut. I'll pretty much do everything and anything for coconut smelling products. There, I said it.
What I want to try: Laura Mercier Almond Coconut Soufflé Body Crème My cousin who is a MUA in LA put me onto this yearsss ago. Time to try again-it smells like HEAVEN ON EARTH!
Other

NuFACE Trinity Facial Toning Device I have this and am waiting to do a full review on my YouTube channel before I tell you if it's worth it or not. I also want to try it on my mom! Will report back.

What I want to try: SK-II Facial Treatment Essence (Pitera Essence). I see this used a lot by many women and would love to see what the hype is all about! Or maybe I'll try this SK-II PITERA™ First Experience Kit to see how I like it!
Holiday Gift Sets

Marc Jacobs Beauty Oui Mon Cherry Set If this isn't the cutest little patent bag, I don't know what is! I have the large bottle of highlighter and the MASSIVE bronzer, so these are perfect size for travel and such a cute little gift! And really want to try the lip oil [fullsize]! And I use the Velvet Noir mascara every day. This looks like a 5 star set!

Charlotte Tilbury Mini Iconic Matte Revolution Lipstick Trio You get the mini Pillow Talk that I've been told is a MUST have plus 2 other beauties.

Charlotte Tilbury Pillow Talk Lip Secrets Lip Set Well wouldn't you look at that! Pillow talk in all the options! In this set, you get a Lipstick, mini Lip Cheat Lip Liner, Jewel Lip Gloss, and Collagen Lip Bath Gloss all in the famous color PILLOW TALK!

Drunk Elephant Been A Long Day™ Glycolic Serum + Moisturizer Duo I have Kiehl's and love it, but I don't want to put this on before bed because it has SPF in it! Thinking this Drunk Elephant Moisturizer is good to put on before bed.

FENTY BEAUTY by Rihanna Glossy Posse Mini Gloss Bomb Set: Holo'Daze Edition Reallllly excited to try the that peachy number! These look like universal colors and will work on anyone-perfect gift!

Lancôme Monsieur Big Volume Mascara Set YOU GUYS! This is a set of two full size products and almost the price of 2-for-1! It's one of my go to's. Go get it.

Sephora Favorites Makeup Musthaves Bestsellers Set Want to try a little bit of all the best sellers without having to commit to full sizes? Well, actually, the include 4 full sizes of some of the BEST [like Nars Blush in Orgasm, Marc Jacobs Velvet Noir] This is perfect for $48 [$146 value!]

Give Me More Lip Holiday Reds and Nudes Lipstick Set – Sephora Favorites Another amazing set if you want to try few of your fave lippies! Comes with a few full sizes as well for $45 (value $124).

Peter Thomas Roth Full-Size Hydra Gel Eye Patch Party This brand is brilliant and his gold under eye patches work like GOLD.

SEPHORA COLLECTION Bright and Beaming 8 Piece Brush Set Well isn't this set of brushes just the cutest?! If I didn't have 1,000 brushes already, these would be coming home with me.

Big Splurge: dyson Airwrap™ Complete Styler Limited Edition Copper Gift Set This is expensive, but equally amazing. Now is the time to splurge when you don't have to pay full price for it! I've heard nothing but good things about it.
Below are a few of the other things I'd like to try:
These are a combination of things I've seen my friends use, influencer friends mention or makeup gurus/YouTubers review!