These 'What I Got For Christmas" videos seem to be a hit on YouTube, so I'm back for a second time, after skipping last year. It does, however, feel a bit weird to create something like this since 2020 was a year full of loss and heartache. With so many people who have lost jobs, family members, or simply cannot afford to give or receive gift this year. This video is simply for entertainment purposes only! But as crazy and wild as 2020, I will continue to try and bring some normalcy into our lives, even for a fleeting moment. Hope some of these things inspire you in someway shape or form!
This Christmas was a special one. After missing being with my family on Thanksgiving, I was able to travel up to MA safely.
This year, I received something most people won't understand the magnitude or excitement I have for this Christmas gift. If you are a golfer, you most certainly will! Dad took me to get fitted for my very first, very own ever set of golf clubs! I've always used hand-me-downs and Lord knows dad has quite the collection in his attic. Some vintage clubs, some usable and an entire bin of putters. He also surprised me with a new driver.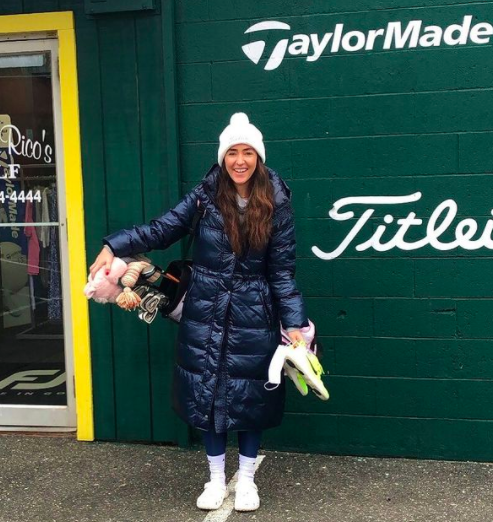 In order to get fitted, I got hooked up to a computer and tried out a bunch of different irons. I hit everything from a Callaway to Ping and everything in between. We decided to go with the Taylor Made Sims2. They're the clubs that Tiger and DJ play with! They haven't been released yet, so they are on order and I get to pick them up in April.
Other exciting Christmas gifts this year were (well, what wasn't?!) a new set of pink pans! I'm not the fondest of cooking but looking at pretty pans might get me to cook more lavish and exciting things. (Let's all pray). The KitchenAid blender is something I plan on using a LOT. Since, I hate cooking, making a fruit and veggie smoothie will take no time at all, and very little effort. Sounds like a dream! Also-if you have any good smoothie recipes, please help your girl out! I'm thinking this will be a great way to get more veggies and fruits in. I'm thinking…spinach, blueberries, oatmilk. But I feel like there's gotta be something more exciting!
Anyway, hope you enjoy this silly video I made. Also, some really great fashion pieces too! Some of the best workout tights, ever! And of course, another great 2 piece lounge set.
Hoping you all had a nice Christmas and holiday season. Here's to praying for a better year! Sending all my love to you all! x