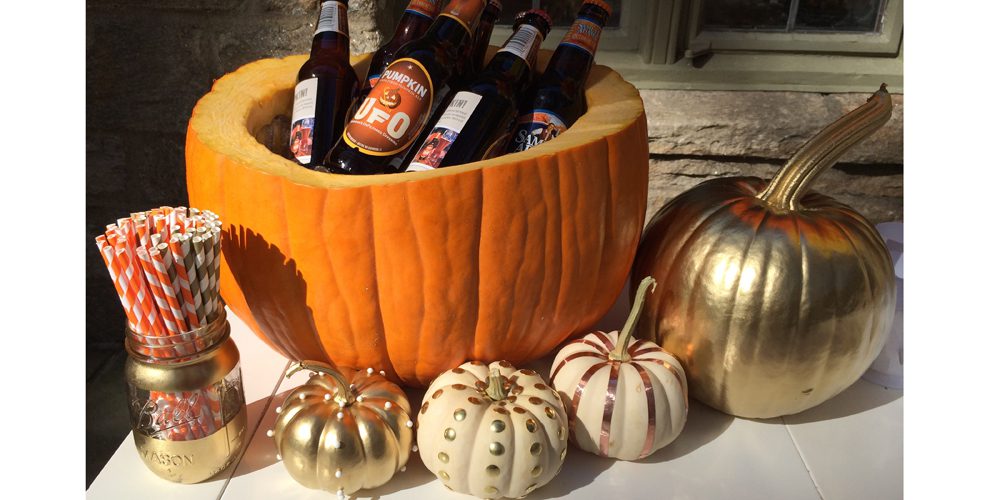 Halloween is just around the corner, and we're finally starting to enjoy the fall weather (or, is it winter already?!). If you are looking for some ideas for your own Halloween party and don't want to break the bank, I've come up with some for you to do it yourself. Pull up your sleeves, it's time to get creative!
Chic Pumpkin Decorating
Do you ever think that good ole' pumpkin carving was the only thing you can do with a pumpkin? Think again. Grab some items from the list below and follow the steps to create beautifully decorated, chic masterpieces.
What you will need:
(1) White Pumpkins (you can find these at local garden centers)
(2) Different colored tape (I used copper ¼" Copper Tape)
(3) Tacks (I used 1/8″ white map tacs and gold round thumb tacks)
(4) Gold Metallic Spray Paint (I used the same spray paint that I used to turn my side table GOLD)
(5) Mason Jars (I used pint size Mason Jars)
(6) Painters Tape
(7) Some form of rubber gloves (You will want to protect your hands from the spray paint)
(8) Card board or some form of a floor protector
(9) Leaves (This was my happy mistake!)
Pumpkin Cooler
Gotta keep the drinks cold and what better way than to use a pumpkin!
Slice off top of pumpkin (and discard)

Scoop out seeds
Add ice cubes
Add your drink of choice.
This is a fun time of year for those you enjoy pumpkin flavored, everything. Harpoon's UFO Pumpkin flavored beer is a fantastic option. If you're gluten free, try Harpoon's Pumpkin Cider.
Depending on where you live and you feel like really blowing your guests away, rent a pony for the little rugrats. And in that case, you need a pony ride entrance! Grab some hay, 2 sturdy sticks, and a tassel garland. If you do not have time to organize a house party, you might want to contact Mr. Bones Pumpkin Patch (https://mrbonespumpkinpatch.com) and similar alternatives where you can choose from different packages that include fun activities, décor, etc and arrange an impressive Halloween party for your guests.
Hope you all enjoyed yourselves as much as I did putting this party together!
For healthy and gluten free treats for your Halloween party see our post here!
All photos taken by Merideth Morgan.